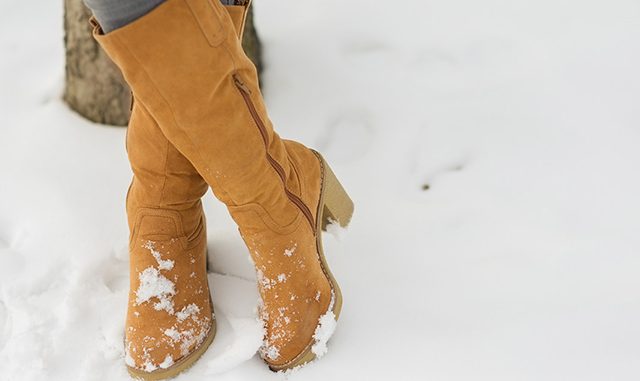 UGG boots for men are comfortable to wear during spring. As 2009 is coming to a close it is time to look back and see what defined the decade in terms of fashion. If you looked at a picture taken in the 60s, 70s, or 80s there were a few specific clothing styles that defined that time. Whether it was big hair and shoulder pads, mod mini dresses or bell bottoms it is easy to pinpoint a general time that that picture was from. If someone from 20 years in the future saw a picture of someone taken from 2000 to 2009 could the same be said? The past 10 years has not introduced any new styles, but rather taken elements from the past and updated them.
Denim
Dark denim was all the rage, especially at the beginning of the decade. By the middle of the decade seeing light denim was very rare. We saw the rise of designer denim brands costing hundreds of dollars. 7 For All Mankind was one of the first on the scene but it was soon after that we saw other brands like Citizens of Humanity, Joe's, True Religion, and Rock & Republic. Low waist Boot Cut and Flared jeans were everywhere. These jeans allowed them to cover the tops of boots and shoes. As the decade progressed, denim jeans became skinnier throughout the legs and seen in blacks and grays. Jeans were often embellished with studs and zippers and other adornments. The style became to tuck your jeans inside of boots and we began to see the waist of pants coming up higher. In fact, we saw the waists of jeans coming up very high, the high waist look was quite popular for a while.
Musical Influences
Both Hip Hop and Pop Punk music had an influence of the way we dressed. With Hip Hop, the super baggy pants and hooded sweatshirts became popular as well as matching jean jackets and jeans, and track suits. Phat Farm shoes and clothing was super popular in the mid 2000s. The puffy jacket was super popular as well. We still see these jackets around with the Northface being the most popular. The baggy jeans look (though no where near as baggy as in hip hop) was also a staple of the Pop Punk Look. The Punk look though paired the jeans with normal to small size shirts, wrist bands, and trucker hats. As the decade progressed, the Pop Punk look turned into an Emo look. In the late 2000s the androgynous look of skinny black pants with a small shirt and hooded sweatshirt, bold makeup including eyeliner and dark nail polish for males and females, and Converse, Vans, or DC shoes on the feet. It was often hard to tell the difference between teenage boys and girls.
Military Influences
After September 11, 2001 there was a large resurgence of patriotism. Camouflage and cargo pants were very popular. The top fashion houses gave a twist to camouflage look with different colors and embellishments. Both men and women wore cargo pants made in colors ranging from the standard khaki to other non traditional colors like blue, green, and red.
Boho-Chic Fashion
By 2003 the Boho-Chic look was quite mainstream. Sienna Miller was one of the first celebrities to be seen wearing this look but both Mary Kate and Ashley Olsen are associated with it as well. The look was a bit contradictory because the look made it seem like you were wearing homemade inexpensive clothing, when in reality the clothes were produced by some of the most expensive designers. Women wore loose fitting shirts, skirts, and dresses with uneven hemlines. Often the necklines were very wide, allowing them to fall off the shoulder. Big floppy hats and over-sized sunglasses were worn with them as well.
Juicy Couture
While first seen worn by Madonna in 1996, it was this past decade that took the Juicy Couture look to the next level. In 2004 the velour tracksuit became seen worn everywhere. The signature look of these tracksuits was low-riding drawstring pants with small form fitting zip up sweatshirts in vibrant colors.
Leggings
In 2005 leggings were back in fashion, though they did not become seen fully for another 2 years when American Apparel began producing them. Leggings at first were simple in colors like black and gray but over time the colors and materials became bolder and brighter.
Dresses and Skirts
While they never disappeared entirely, the early part of the decade did not have many changes to the past styles. In 2004 super short form fitting mini denim skirts, often adorned with ruffles, became very popular amongst the teenage set. For older women in their 20s and 30s, the skirts were a bit longer and also often had ruffles as well. In terms of dresses, most were spaghetti strap or strapless and form fitting, or thicker straps with ruffles. Both skirts and dresses often had uneven hemlines. At the end of the decade, many skirts were high waisted.
Ugg Boots
Around since the 1920s, in the 60s Ugg boots were worn mainly in Australia and New Zealand, but in America as well, by the surf culture. They were the perfect boots to put on after an early morning in the ocean because of their sheep lining. In the late 1990s, many Hollywood stars were seen walking down the streets wearing these boots. By 2000 all of America either embraced or turned their nose up at these boots. While not the most stylish, these boots kept feet warm in the winter and cool in the summer due to their sheepskin lining. At first there were simple and basic in style but as time progressed, they became more fashionable adding zippers, patterns, brighter colors, and different materials. By the end of the decade the two most popular styles were argyle and ankle height with a button closure.
Sunglasses
Eyewear this decade took a lot from the past. In the 80s and the release of the movie Top Gun the aviator glasses look was in full swing. Twenty years later the look was still around but so were so other distinct glasses looks. The two eye glass main looks could not be any more different from one another. The geek chic look was in full swing in both regular and sunglasses. These glasses had thick rims and were often designer brands. The other look for eyeglasses was the rimless glasses. These also were often designer brand. In terms of sunglasses, besides aviator, other popular looks were over-sized glasses around since the 1970s, often worn by very tiny petite girls whose glasses were practically bigger than they were, and the Ray Ban Wayfarer glasses which had been around since the 1950s.
The "It" Handbag
In the mid 2000s, all eyes turned not only to what you were wearing but also to what handbag you were carrying. Mainly due to television shows like Sex and the City and celebrities in Hollywood, the handbag on your arm became very important. High end designer handbags had been around for decades but it wasn't until recently that the importance of the bag became crucial. The Hermes Birken, with a two year wait and hefty price tag was one of the first bags that everyone woman wished to own. Other popular "It" bags included Balenciaga Motorcycle, Botkier Bianca Satchel, Louis Vuitton Speedy, Marc Jacobs Stam, Prada Fairy Bag, and Chloe Paddington. Most of these bags were quite over-sized and quite heavy. The average woman was no where near as able to own the real thing so they did the next best thing and bought a knock off version.
Media
Every woman raced to their television in the early part of the decade on Sunday nights to see what Carrie, Samantha, Charlotte, and Miranda best known as the girls from Sex In The City were up to. Their adventures, and more importantly, their fashions were closely examined. The influence of these characters on how we dressed was mind boggling. Every brand that they talked about and wore immediately became THE brand to wear, or for most, dream to wear. Women were devastated when the show went off of the air in 2004 but were equally elated with the release of the movie in 2008. Throughout the decade there have been many shows that delve into the fashions that celebrities wear. Most of these shows aired in E! These shows often would show you the thousands of dollars worth of clothing and accessories that they wore but also show the viewer how to recreate that look at a modest budget. Every award show was followed by some sort of television show that talked about the good, the bad, and the awful worn. Average designers scrambled to recreate and interpret these designs for all to wear. The fashion reality shows also became a mainstay. The most popular of these shows was Project Runway. Once a week, we turned on our televisions to see Heidi Klum, Tim Gunn, and Michael Kors, along with other top designers and fashion insiders, assign and critique want to-be designers make their creations to walk down the runway. Viewers could not wait to the end of the season to see fashion week. This show was the launching pad for some of today's up and coming designers and we as viewers were able to witness it all happen.
Private Labels
Dreams were answered when in this past decade some of the top high end designers decided to make more affordable lines for the average consumer. We saw Isaac Mizrahi create a great line of clothing for Target, Vera Wang at Kohls, Michael Kors at Macy's, and both Jimmy Choo and Stella McCartney for H&M. Department store also started their own private label brands that were high in quality and luxury. Many celebrities including Jessica Simpson, Gwen Stefani, Carlos Santana, and Beyonce started their own lines of shoes and clothing for all of us to wear. Target saw the great hype of buying Isaac Mizrahi and created their Go International line which has top and upcoming designers selling affordable clothing, shoes, and purses. Some of these designers were Proenza Schouler, Rodarte, Zac Posen, Fiorucci, and Luella Bartley.
Michelle Obama
Not since Jackie Kennedy have we had a fashionable first lady. Michelle Obama puts together immaculate outfits and does so with a mix of high end and affordable clothing. She dresses her children in brands we can find at the local malls. No matter what she wears, it is a guarantee that America is taking note and rushing to own it for their own.
Other Fashion Trends
Pointy toe shoes and boots Polo shirts, including pink, for men and women Plaid shirts made a resurgence in 2008 Argyle patterns on shirts, sweaters, and boots, Ed Hardy, Crocs, Spanx, Botox.
Fashion and Shoes Blog and Forum [http://heelsandsteals.com/]
Health and Beauty [http://agelesshealthandbeautysecrets.com/]
Article Source: https://EzineArticles.com/expert/Jim_Accardi/344192
Article Source: http://EzineArticles.com/3500622