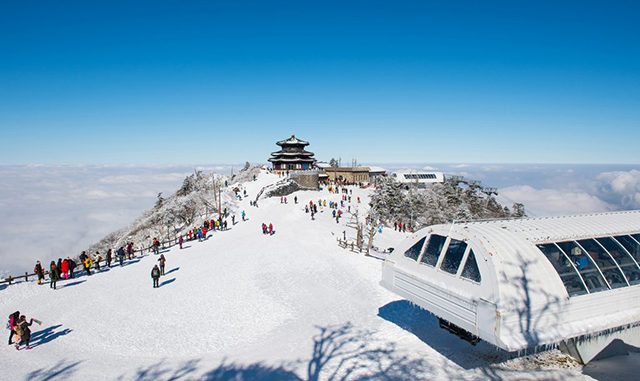 If you're just getting into skiing, or have been on the same skis for years, the terminology now used by retailers can be confusing. Browse from Canada ski trip with the latest promos and offer for your family vacation.
The good news is, the ski categories prescribed by retailers and manufacturers stay relatively consistent year to year, and for the most part, the skis themselves do fit into those roles. But what is the difference between all mountain, big mountain, backcountry (aka alpine touring or AT), carving, powder, and park and pipe skis? And which one is right for you? A breakdown of these ski categories can help narrow your choice.
All-Mountain Skis
The term "all mountain" is at best confusing, and at worst misleading. All-mountain skis can range from slightly modified carving skis to slimmed-down powder skis to tamer versions of big-mountain skis. Essentially, an all-mountain ski can be any ski you like, as long as it works for you most of the time in most of the conditions you ski. While the category itself is vague, many of the skis within it can be excellent choices for all-around "one-ski-quiver" seekers or first-time buyers. However, the wisest choice is to keep an open mind, analyze your ability and skiing style, and determine your preferred or predominant terrain and conditions—then you'll find out what "all-mountain" means to you.
Summary:
Waist width: Look for a medium-width waist to balance between hard-snow grip and soft-snow float. It also depends on conditions; 85-95mm is better for harder snow, 95-105mm will be better for soft or variable conditions.
Sidecut/Turn radius: Your options will generally have a medium radius or multi-radius sidecut that makes it easier to carve a variety of turn shapes.
Profile: Most modern all-mountain skis feature traditional camber with some form of rocker (usually early-rise tip and possibly some tail rocker), which gives you easier handling and turn initiation in variable conditions.
Big-Mountain Freeride Skis
Expert skiers who like to ski fast in steep, technical terrain need skis that can handle the pressure, and therein lies the reason for the big-mountain ski category. A true big-mountain ski is like a cross between a powder ski and an old-school race ski, built to remain rock-steady at high speed but made wider to improve handling in variable and soft snow conditions. While many manufacturers tout their widest skis as big-mountain skis, not all really qualify in our opinion. If you're a powerful, expert skier, and you need an appropriate ski for your skill level and athletic ability, a stiff, burly big mountain ski will open doors and take your skiing to the next level. If you're none of the above, well, don't say we didn't warn you.
Summary:
Waist width: Generally, these tend to be wider underfoot, so your options will be in the 100-125mm range.
Sidecut/Turn radius: These can vary, but in general you're going to find longer (20m+) turn radii for skiing big lines.
Profile: Again, there's a lot of variability to choose from, from full rocker for deep, soft snow to some mix of camber and rocker for more variable terrain. It's a matter of preference.
Backcountry / Alpine Touring Skis
While any ski can theoretically be used in the backcountry, the recent explosion in alpine touring's popularity has spawned a whole subset of ski gear specifically designed for this side of the sport. Backcountry/alpine touring/ski mountaineering skis (the terms are used interchangeably) range from super-svelte trekking and ski-mountaineering styles focused primarily on uphill mobility, to more freeride-focused models that offer the same massive dimensions and innovative rocker profiles as the newest inbounds powder skis. Regardless of purpose, most backcountry skis employ lighter-weight construction than their inbounds brethren, and offer touring features like notches in the tip and tail for attaching climbing skins. Along with low weight comes some sacrifice in another areas, usually in the ski's ability to remain damp and chatter-free on hard snow or to resist impact damage to the base and edges. Therefore, if you're not planning to spend the majority of your time hiking for untracked lines, you might be better off sticking with a "resort" ski.
Summary:
Waist Width: You preference will depend on your priorities; 70-90mm is better for long tours and speedy ascents; 90-115mm will be slower going up but will stay on top of deep snow on descents better.
Profile: You can find full-camber skis in this category, but most will feature a hybrid profile with camber underfoot and tip and possibly tail rocker.
Powder Skis
The name says it all: these skis are for deep days, with their primary focus being flotation and maneuverability in soft snow. With that said, powder skis range in size, shape, and character, from just wider than an all-mountain ski to extremely wide, from soft and noodly to stiff and straight for high-speed stability. Many western skiers choose some form of powder ski as an "everyday driver," thanks to the versatility provided by innovative rocker profiles and a desire to have extra girth at the ready in case of a storm.
Summary:
Waist Width: How vendors classify 'powder skis' varies considerably, from 98mm waists to 125mm. Your perceived odds of hitting 24+-inch days will dictate where your choice falls along this spectrum.
Sidecut/turn radius: Again, this can vary significantly, from the all-mountain range to the girthy 'reverse sidecut' that works well in heavier PNW snow.
Profile: Rocker dominates here, although some skis will have camber underfoot for better control outside of the snow fields.
But in the end …
If you've read through all of the category descriptions above, you'll notice that most of them include some sort of disclaimer about variations within each category and the pitfalls of placing boundaries around a ski's uses. That's the not-so-obvious, and also the most difficult, aspect of choosing a ski—because along with the uncertain nature of ski categorization, every skier has his and her own opinion, not to mention ability level, favorite terrain, and preferred conditions. One friend will tell you she loves skiing powder on her so-called "carving" skis, and another will boast that he can rip moguls all day long on his big-mountain boards.
The important thing is not to let anyone tell you which skis are right or wrong, because it all boils down to personal choice. Choosing your own skis is an individual experience, and while reading and researching will help with your decision, time on the snow is the most reliable way to determine what kind of ski you need or want. The best advice we can offer is to go demo a variety of skis or attend a free demo day at your local hill, where you can try different brands, different models, and different lengths within each model to find the one that works for you. When you find the right one, you'll know, at which point you can join the ranks of opinionated and passionate skiers as you educate your friends on why yours are the best skis to ever come out of a press.